Fred Kalil
UP CLOSE…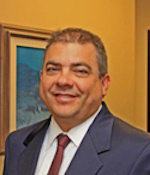 Fred Kalil is a graduate from the University of Arizona with a bachelor's degree in General Business.
For three years prior to his joining Kalil & Co., Inc., Fred worked in the soft drink industry and assisted in negotiations to acquire other beverage companies.
Fred is currently Vice President of Kalil & Co., Inc, and has been brokering radio, television, outdoor, and tower transactions for over 29 years.
AND PERSONAL…
There is most likely not a media broker in the country that has as much savvy as Fred Kalil. He has the unique ability to see a deal from every side, allowing him to defend all positions with the goal of getting a transaction done that satisfies all parties. The media brokerage business is what Fred knows. He has spent nearly his entire career doing this and could never envision doing anything else.
Fred enjoys fishing and coaching basketball. He also loves to play cards and may ruin your day if you invite him to your upcoming Hearts game.
Tom Zlaket says this about Fred:
"Fred is the perfect combination of street smarts, likability, and experience. He understands people and is very good at communicating with everyone with whom he comes in contact. Our clients love doing business with him because he is not only a great broker but a tremendous listener. "